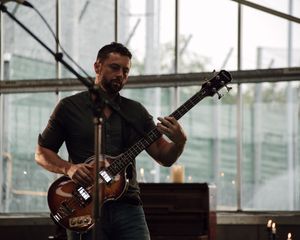 MASK Blog - A tearful farewell… 
With a heavy heart, we must say goodbye to our bass player 'Daz' from MASK - as a founding member of the original band and a lifelong friend, it is most definitely a tearful farewell. 
The reason is simply due to new work commitments and parental duties.  Family comes first.  We remain as close as ever and you may see him from time to time on our channel or jumping in on local gigs. 
Craig will take over on bass guitar duties and he's excited to take on the challenge. (Did someone say, Paul McCartney?!!) 
Moving forward: The new live MASK album has been named 'Rock, Drop and Roll' and it will be available towards the end of January 2020 (follow us on Spotify to get it before anyone else) 
As we write this letter it has been two years since we first released music.  What started as a group of mates making a noise in a shed has snowballed into us having a fanbase across the globe, hundreds of thousands of sales/online streams and having the opportunity to tour Scotland and playing our first music festival - what a highlight! 
We remain incredibly grateful and overwhelmed, thank you, everyone. 
You are going to now see us go quiet on social media!  We are all going our separate ways for Xmas and New Year to gather our nuts!! (OOOoooohhhh!!!) 
We wish you all a very safe and pleasant time over the festive period! 
Peace be with you, 
MASK